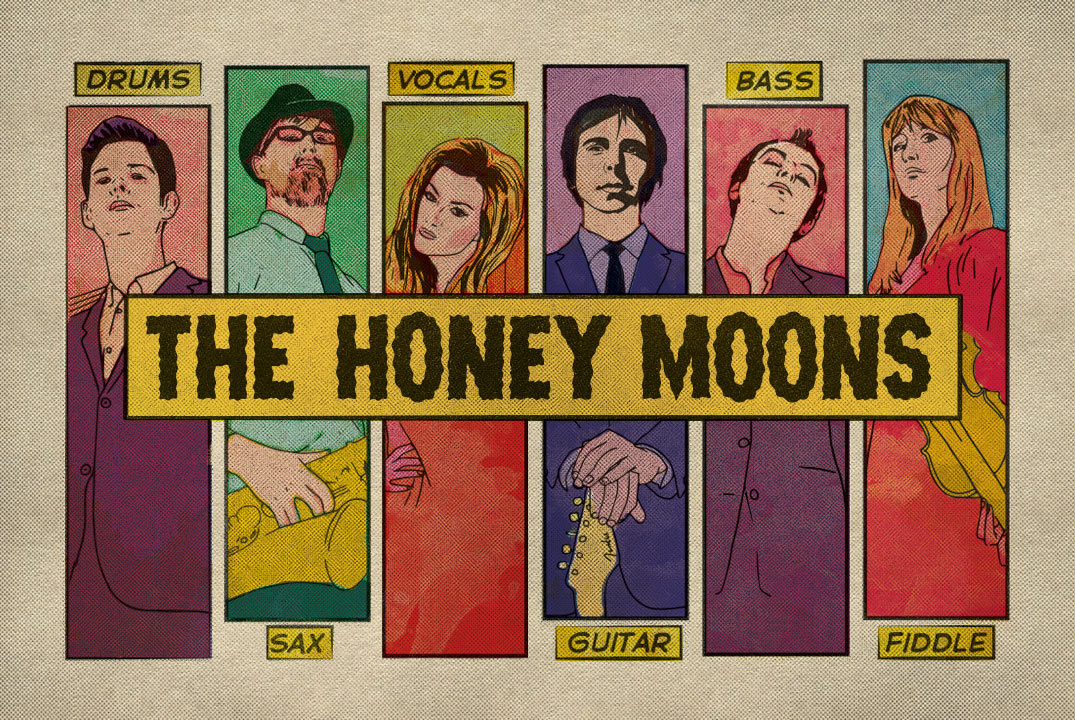 Welcome to The Honey Moons Band official site
If you're looking for a top end, high energy multi-talented band then you have come to the right band's site. The Honey Moons are one of the most in demand wedding bands in Scotland and beyond. They boast male and female vocals and have over three hours worth of music in their arsenal that covers acts of such diversity as Eddie Cochran through the Beatles up to the likes of Fleetwood Mac and the Kings of Leon. They are at home performing as either a 5 or 6 piece band, both with ceilidh options and floor filling is their speciality.
Booking Options…
The band perform as a standard 5 piece outfit but can be booked as a 6 piece >see the options
What can they play? What can't they play…
The Honey Moons wedding and function band have an extensive musical repertoire ranging from the 1950s through to modern day floor fillers. We're always learning more material and will happily learn a specific request for your event if enough time and notice is given >More About the Band
Here's a list of our current set list mixed with songs that are in our repertoire. When looking through it we urge you to remember two things…
We play these song using the instrumentation that is available to us. So all the songs are arranged for x2 guitars, a bass guitar, drums, male and female vocal, plus if you choose to book them a Tenor Saxophone/Flue/Whistles or fiddle (or both) Also we may play a song in a completely different style to he original recording as we believe it to make the song better to dance to, or we just fancy being creative with them.

We guarantee that our enthusiasm, energy and musicality will shine through and that if you and your guests are music fans then you will enjoy our interpretation of what we believe to be some of the best songs of all time. We love what we do and we love these songs – trust us!
Paolo Nutini – Pencil Full of Lead
Jungle Book Theme Tune
Jackie Wilson – Higher and Higher
B52's – Love Shack
Chacka Khan – Ain't Nobody
Johnny Cash – Ring of Fire
Brian Ferry – Let's Stick Together
Roxy Music – Love Is The Drug
Duffy – Mercy
Chuck Berry – Johnny B Goode
Chuck Berry – You Never Can Tell
Chic – Le Freak
Dusty Springfield – Son of a Preacher Man
Dusty Springfield – Wish and Hopin'
The Commitments – Try a Little Tenderness
Marc Bolan – I Love To Boogie
Gloria Jones – Tainted Love
Ray Charles – Hit The Road Jack
Ray Charles – I've Got a Woman
Nancy Sinatra – These Boots
Dolly Parton – 9-5
Dolly Parton – Jolene
Mamas and Pappa's – Dream a Lil Dream
R.E.M – Shiny Happy People
JXL/Elvis – Little Less Conversation
Elvis Presley – Hound Dog
Elvis – Suspicious Minds
Annie Lennox – Thorn In My Side
Fontalla Bass – Rescue Me
Dee Lite – Groove is In The Heart
LIPPS INC – Funky Town
Daft Punk – Get Luck
Haddaway – What is Love
Dire straits – Walk of Life
Lynyrd Skynyrd – Sweet Home Alabama
The Contours – Do You Love Me (Dirty Dancing)
Blues Brothers – Shake your Tail feather
Lumineers – Ho Hey
Justin Timberlake – Can't Stop The Feeling
George Ezra – Budapest
Electric six – High Voltage
Pulp – Disco 2000
James – Sit Down
Doobie Brothers – Long Train Running
Ben E King – Stand By Me
Sister Sledge – Lost in Music
The Bangles – Walk Like an Egyptian
The Sweet – Ballroom Blitz
Tina Turner – Proud Mary
Kim Wilde – Kids in America
The Ronnettes – Be My Baby
George Baker Selection – Little Green Bag
Eddie Cochran – Summer Time Blues
Fever 105 – Get Down Saturday Night
The Superman Lovers – Strarlight
Steelers Wheel – Stuck in the Middle
CCR – Bad Moon Rising
Deacon Blue -Dignity
Reggae Style – All About That Bass
Del Shannon -Runaway
Birdy – Wings
The Cardigans – My Favourite Game
Arcade Fire – Rebellion (Lies)
Smokey Robinson – Tracks of My Tears
Spencer Davis Group – Keep on Running
Queen – I Want To Break Free
Amy Winehouse – Back to Black
Amy Winehouse – Valerie
Amy Winehouse – Cupid
Men At Work – Down Under
Free – All Right Now
The Ramones – Baby I Love You
Shocking Blue – Venus
Donna Summer – Hot stuff
Talking Heads – Once in a lifetime
The Rolling Stones – Satisfaction
Republica – Drop Dead Gorgeous
Black Keys – Lonely Boy
Sheryl Crow -Strong Enough
Bow Wow Wow – I Want Candy
Pixies – Where Is My Mind
Sensational Alex Harvy Band – Delilah
ELO – Mr Blue Sky's
Ottis Reading – Dock Of The Bay
Diana Ross – Baby Love
The Supremes – Can't Hurry Love
Shocking Blue – Send Me a Postcard
Alabama Shakes – Hold On
Marvin Gaye – Grapevine
Fleetwood Mac – Oh Diane!
Squeeze – Tempted
The Primitives -Crash
The Yardbirds – For Your Love
Jet – Are You Going to Be My Girl
Vampire Weekend – Holiday
Rod Stewart – Maggie May
Slade- Cum On Feel The Noize
KT Tunstal – Black Horse in A Cherry Tree
Steve Wonder – I wish
Heart – Alone
Bill Withers – Aint No Sunshine
Bill Withers – Lovely Day
Blonde – Heart of Glass
Tina Turner – Nutbush City Limit
Madonna – Material Girl
Madonna – Like a virgin
Madonna – Borderline
The Police – Roxanne
The Police – Message in a Bottle
Nina Simone – I Put a Spell on You
Nina Simone – Feeling Good
Van Morrison – Moondance
Van Morrison – Brown Eyed Girl
Janis Joplin – Mercedez Bends (Fatboy Slim remix)
Janis Joplin – Piece of My Heart
Kings of Leon – Use Somebody
Kings of Leon – Four Kicks
Fleetwood Mac- The Chain
Fleetwood Mac – Don't Stop Thinking About Tomorrow
Fleetwood Mac – Everywhere
The Beatles – Here Comes The Sun
The Beatles – Till were Was You
Kate Bush – Them Heavy People
Kate Bush – Babooshka
Kate Bush -Running up that Hill
Kate Bush – Wow
Kate Bush -Hounds of Love
Kate Bush – Cloudbusting
Kate Bush – Army Dreamers
Kate Bush – Withering Heights
Examples of first dances that we've played before…
Nat King Cope – Let There Be Love
Nat King Cole – L.O.V.E
DJ Sammy – Heaven
Jason Miraz – I'm Yours
Lone Star – Amazed
The Proclaimers – Life with you
Paul Weller – You Do Something To Me
Al Green – Lets Stay Together
Take That – Take Over the World
Frank Sinatra – Fly Me To The Moon
Sinead o'Connor – Nothing Compares To You
Frank Sinatra – I've Got You Under My Skin
Grease – Hopelessly Devoted to you
Dolly Parton – I Will Always Love You
The Beatles – Real Love
Jennifer Rush – The Power of Love
Dire Straights – Why Worry
Van Morrison – Have I Told You Lately
Little Mermaid – Kiss the Girl
I Love You Baby – Frankie Valli
Ray la Montagne – You Are The Best Thing
The Turtles – Happy Together
Edward Sharpe & The Magnetic Zeros – Home
ceilidh section…
We find this best to disperse the Scottish dance tunes into the set through the evening. Here's the ones that we play on a regular basis but please feel free to request others as we're always keen to add more dances to repertoire
Gay Gordon's
Dashing White Sergent
Canadian Bardance
St Bernards Waltz
Virginia Reel
Eightsome Reel
Reel of the 51st State
Flying Scotsman
Orcadian Strip the Willow
ChrisMackinnon
Jake and Bruce Aaaah, the summer months as a UK wedding band, the early starts, the late finishes, the motorway cafés, the snoring bandmates and the occasional glorious endorsement of [...]
ChrisMackinnon
The Byre at Inchyra It's been a hectic few months in Honey Moons land, it's not easy being a top Scottish wedding band, and nor should it be but the hard work is always [...]